EXHIBITION EVENT: The past meets the present.

Do not miss this exhibition and discover Franck Doat, a tightrope walker, an elegant and sensitive artist
playing with overlays and transparencies to create amazing images. A blend of the past and present.
A work in Black and White, which "will" so the Darkroom Gallery
and allows the image reader to land on each picture and let his imagination run.

"Autrement," photographs of Franck Doat
December 2, 2014 - January 31, 2015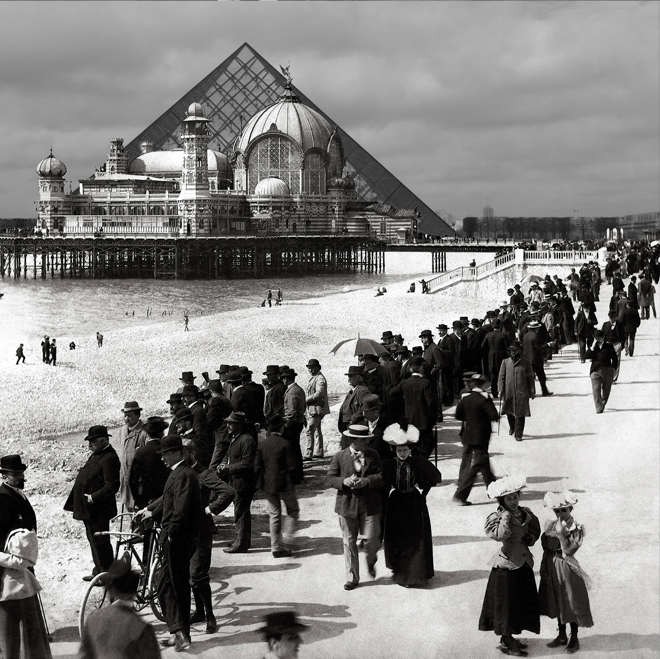 A few words from the artist ....

I first started by painting, then as some artists do, I turned to other media including photography for which I had a real passion (this may come from my family roots because my Grandfather was himself an experienced photographer). For four years I devoted myself entirely to photography. My first piece (Statue) was designed for Monaco's Eagle Bonelli fundraiser, "Eco Art Parade", for the foundation of the HSH Prince Albert II in 2009. This work is now owned by SBM and is on permanent display at the gallery of the Winter Sporting in Monte Carlo.
I am a self-taught artist and I want to remain this way because I do not obey any rules. What I wish to emphasise most is my artistic and creative side and photography is an ideal tool for this as it offers me everything I want. Some do not consider me to be a real photographer because I do not photograph "the moment" yet sometimes this happens to me. What interests me about photography is that it offers me inspiration for my imagination and creativity. Above all I am an artist and wish to remain so, as such, I can afford to make mistakes for which I take full responsibility. In my opinion, I do not have a real photographic approach but a mostly artistic and creative one.
I find it difficult to talk about my work and I prefer it to be the visitor who gives his impressions. What I express through photography, he may himself see as something else. I especially like when the visitor passes my work it is insignificant to a place known "oh it's still a cliché ..." And suddenly through observation, he sees something else and it calls out.
It is true that if we look closely, we find perspective, clarity and obscurity and another which is a composition.
I called my photographic work "other" or "Surrealist World". On my travels abroad, I take many pictures. During my trip to Lebanon, I took almost 3000 photos. It is true that this country inspired me a great deal and one can find this a lot in my photographs. I compiled a significant database catagorised by theme, genre etc ... And then comes my associated work. At first I began with image distortion. This technique is closest to my paintings. Then I switched to another source of inspiration in which I associate borrowing elements from nature, architecture and the urban world. I like contrasts, opposites. It is true that I can and want to show the reality of our time between the world of the rich and the world of the poor. Thus, in one of my images, I associated the Empire State Building in New York and the image of a poor district of Beirut. I love these opposites. Some of my photos are very spiritual, others close to nature and the urban world, others surrealist. I like everything related to places, landscapes, environments and heritage cities. This is primarily a work of observation and creation. I'm inspired very little by the news and events that shape the world, but it is true that sometimes unwittingly the themes concerning the protection of the environment, the protection of our heritage through a different perspective, the defense of human values and the fight against inequality touch me deeply.


Franck Doat, Artist photographer was born in Mont de Marsan in the Landes in 1972, Franck Doat photographic artist has practiced his art between Monaco and Nice for 10 years. The promising Azureen artist has been appreciated by many art lovers, and has been featured in various exhibitions in Paris, Milan, Merida, Mexico and Monaco. He participated in 2009 at the "Eco Art Parade" exhibition; indeed he is the creator of the eagle exhibited as a museum piece on the first floor of the Winter Sporting in Monte Carlo.
From a simple and classic coaching, stand surreal photographic works of Franck Doat, made in black and white, some with a touch of colour. Through this series entitled "Cities otherwise" the artist proposes a stop, a different perspective on life and the city. Inspired by palace facades, monuments, buildings, and street furniture of Monaco, Paris and Beirut etc ... Franck Doat reinvents the architecture of cities.
His artistic approach begins with the selection of shots. Thus in Beirut, after shooting three thousand shots in four days, only twenty-three works will emerge clean and final. In the intermediate stage, the artist accepts his photographs, playing with distortion, shimmer, layering, multiplication, expansion, and assembly. The result is reminiscent of the reflection in the water, or even feminine curves that were the object of his early works in abstract and figurative style.
His talent was discovered 6 years ago by a friend, who "launched" and assists in every field since. Self-taught, Franck Doat is a painter, sculptor and photographer. "I avoid standards, and I am free to be wrong, to explore new materials with my heart." Sony Ith.